!!MODELL HAR UTGÅTT!! Ersätts av Zenton SR6 Mediaspelare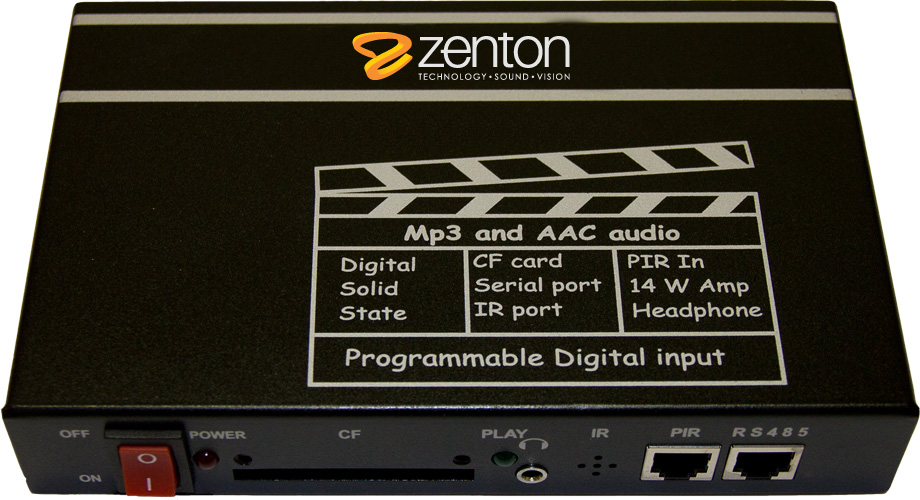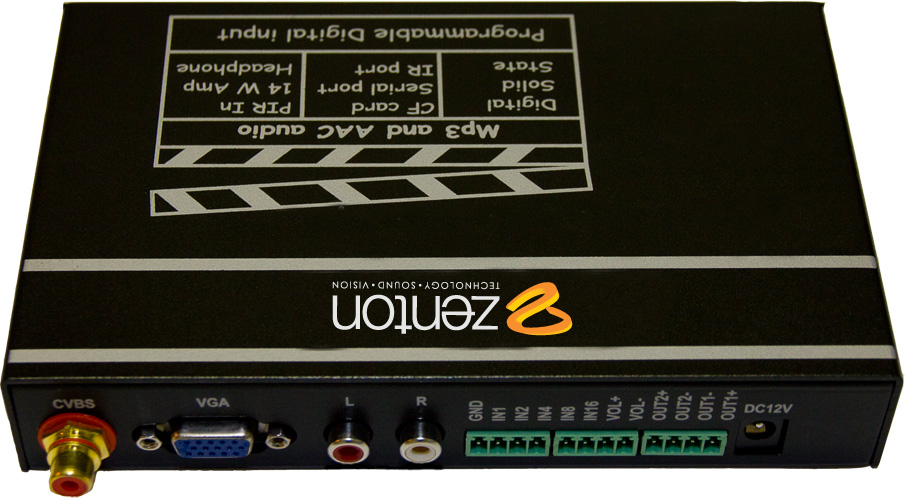 Zenton SR4 är en unik och enkel mediaspelare med avancerade funktioner som passar perfekt till museer, mässor, butiks och köpcentruminstallationer samt utställningar mm.
SR4 spelar upp video (SD) via S-video, komposit och VGA och  fungerar som en perfekt industriell mp3-spelare med sin inbyggda förstärkare.
Tackvare den inbyggd förstärkaren skapar man enkela och kompakta multimediainstallationer med passiva högtalare.
SR4 startar när man slår på strömmen och stängs av när man slår av strömmen precis som det skall vara.
Spelaren kan ta emot knapptryckningar för att styra vad som skall hända. Det går även att direkt koppla på en sensor och få ut 12volt via PIR kontakt.
Även volymen kan styras via knappptryckningar.
• Plays Video, MP3 (xxx.mp3) and PCM (xxx.wav)audio files.
• Plays direct from a standard Compact Flash card.
• 14 Watt stereo audio out and 100 mW Headphone out.
• VGA,S Video and Composite video out,plays DVD(xxx,vob) video files .
• Built In 5 Input, binary connection to 31 push buttons and sensors.
• Inputs are programmable to play different video files.
• Motion detector input, plays audio when motion detector is triggered.
• Optional RL4 output board to trigger 16 relays to play in sync with audio.
• Compact unit size, only 6.5″ W X 4.5″ D X 1.2″H.
Applications
• Audio player for Museums and Science Center exhibits.
• Audio and Video player for Interactive travelling exhibit.
• Audio information system for Theme Parks, Go-Kart tracks, Family Fun Parks.
Specifications
• Voltage & Power Switching 12V DC, 3 Amp
• AC input: 120-240V AC, 50-60Hz
• Audio Video Storage: Sandisk Compact Flash Card
• Volume Control: Digital, 2 screw on terminal
• Audio Line Out, Stereo RCA, 2V p/p
• Speaker out, 14 watt stereo, 4 screw on terminal
• Headphone out, 100 mW, 32 Ohm, stereo
• Digital Input, TTL Binary: 5 Screw on terminal, binary
• Motion Detector Input (PIR) available on RJ11 jack
• Audio File format: MP3 and Wav
• Max Audio bit rate: 320 kbps
• Video File format: VOB and Mpeg2
• Max Video bit rate: 9 Kbps
• VGA video out: DB15 at 640 x 480
• Composite video out: RCA at 720 x 480/576
• S Video out: S Video Din4 at 720 x 480/576
• Serial port: RS485 on RJ11
• IR port, use IR remote control
• Metal enclosure size: 6.5″W x 4.5″D x 1.2″H
• Weight including P.S.: approximately 2.1 lbs.