!!MODELL HAR UTGÅTT!!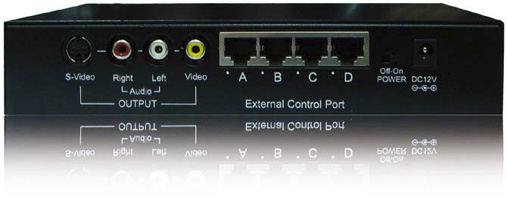 ProDVX F100 The Best Professional Low Cost Multi Mpeg Player.
The first low budget, multi Mpeg player for professional purposes. The ProDVX F100 is a 'black box' with dimensions of merely 202 x 131 x 43 mm. This allows it to be installed in the flattest possible kiosk housings with TFT/LCD screens.
The ProDVX F100 functions trouble-free with the formats Mpeg-1 multiplexed, Mpeg-2 multiplexed (up to 8 Mb/sec VBR), MP3 audio, VOB and Jpeg Still Photo with Music Slide function. The firmware can be updated by means of software for future Mpeg standards. This possibility renders the ProDVX F100 a secure and stable future. In spite of the low price, the system boasts various valuable features, such as the remote control with 28 functions.
The integrated Compact Flashcard reader reads type I and II. In the hardware there is enough space for an internal 2.5" hard disk drive.
Video output: composite and S-video, NTSC and PAL, to be selected using the remote control. Audio output: stereo L/R with RCA jack. Playback functions: auto play and auto loop. Update Content by Means of Drag & Drop With the ProDVX F100, media files can simply be copied on the Compact Flash card by means of drag & drop. It is also possible to copy from an external PC to an internal hard disk by using the USB 2.0 port available (480 Mb/sec, USB Type B connector).
Power is supplied by a universal power adapter delivered along DC 12V, 3A (100-240 VAC, 50/60Hz). The ProDVX F100 only weighs 820 grams. Standard delivery
includes remote control with battery, A/V cable, S-video cable, power supply adapter, USB 2.0 cable,user's manual and L-type mounting clamp.
Compact flash card and built-in hard disk are sold separately. Also available: ProDVX F150; almost identical to the ProDVX F100, only without internal hard disk but with VGA output.